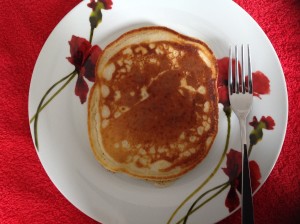 Yummy pancakes for the whole family – who needs eggs?
Ingredients:
175g (6 oz) plain flour
1 tbsp baking powder
1 tbsp sugar
½ tsp salt
225 mls milk
2 tbsp vegetable oil
2 tbsp water
1 tsp vanilla extract
Method:
In a bowl, mix together the dry ingredients – flour, baking powder, sugar and salt.
Add in the remaining ingredients – milk, vegetable oil, water and vanilla.
Stir until just moistened.
Spray pan with non-stick spray or lightly wipe with oil. Pour desired amount of batter per pancake.
Pancakes are ready to turn when bottom is turning golden brown.
Flip pancakes with spatula (or if you feel adventurous, go for the free-hander!). Turn only once.
Remove when bottom is golden brown and dry.
Serve warm and sprinkle with your favourite topping!
Mmmm…fluffy & delicious!