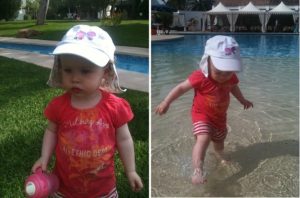 We all look forward to some sunshine after the cold and wet months of winter. Sunshine is great for generating skin-friendly vitamin D but we also need to protect ourselves and our kids from the harmful side of the sun.
Looking after a child with eczema in the sun takes a little more planning and preparation, so we put together our top tips to make it easier for you!
Some general advice…
Children's skin, which is still in development, is far more fragile than adult skin, particularly when it comes to the harmful effects of UV rays.  Remember, even on an overcast or cloudy day, the sun's rays will still reach us
General Top Tips:
Avoid periods of peak sunlight (between 11am and 4pm) by encouraging activities in the shade or naps
Ensure your children wear a wide-brimmed hat, sunglasses with filtering lenses and dark clothing (a black t-shirt protects more than a white one)
Apply sunscreen frequently and generously (at least two layers every two hours and after each swim) on all exposed skin
Drink regularly
Babies under 6 months should not be exposed to direct sunlight, so keep them in the shade at all times
Top Tips for kids with eczema:
All of the above applies for
kids with eczema, but there are some additional factors to take into consideration when your child has eczema.
Heat can be a key factor in triggering your childs eczema. When out and about, covering them up in light cotton trousers and tops will not only protect against sun exposure but will help to keep them cool
Sunscreens can irritate eczema in some children. Make sure that you test any new sunscreen before applying it to the whole body
Look at ingredients of the sunscreen – some are based on chemicals, some non-chemical minerals (usually titanium dioxide) and some are a combination. Chemical sunscreens are absorbed into the skin whilst those containing titanium dioxide sit on the skin and act as a barrier
Try not to rub too hard when applying cream as this will trigger itching
Sun exposure is drying to the skin. Be even more generous than usual with your regular emollients (moisturisers) and use a heavier emollient than usual at night.
Apply your emollient about half an hour before applying a sunscreen. This will stop the sunscreen from becoming diluted by the emollient and will make sure that the sunscreen keeps its protective properties
Remember that sunscreens are not designed to allow your child to spend unlimited time in the sun but to provide protection when they are exposed to sunlight.
Salt water and sand may be irritating for some children with eczema, particularly if the skin is broken or cracked. Particles of sand or salt can lodge in the skin cracks and sting. Chlorine can also be irritating for some children. Always apply a thick layer of emollient before swimming.
A tepid soak in a bath, with oils suitable for eczema, will remove particles of salt and sand and help to soothe the skin after a trip to the beach or the pool.