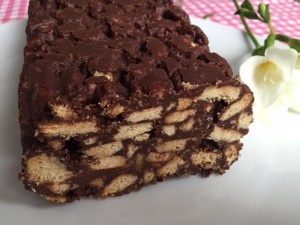 Another alternative for a special treat!
Egg-free, nut-free & no cooking needed, this one will go down well with kids & adults alike!
Ingredients:
250g (8½ oz) milk or dark chocolate
100g (3½ oz) butter
400g (14 oz) digestive biscuits
1 tbsp golden syrup or honey
5 tbsp pouring cream
900g loaf tin
Method:
Melt the chocolate with the butter.
Mix in the golden syrup or honey along with approx. 5 tablespoons of cream until you have achieved a smooth silky sauce.
Allow to cool a little, then break in the digestive biscuits.
Transfer to the loaf tin that has been lined with parchment paper.
Chill for at least 2 hours (overnight is best).
To serve, turn out onto a suitable plate.
Leave to set at room temperature for 20 mins before cutting into slices to serve.
Easy peasy!